The information coming from the military intelligence group, Q, has become suddenly time sensitive regarding the public (i.e., us).
Back on September 6th, Q posted the following heads up:
46480B2E-DF10-4118-975A-1A34DD7B626F.jpeg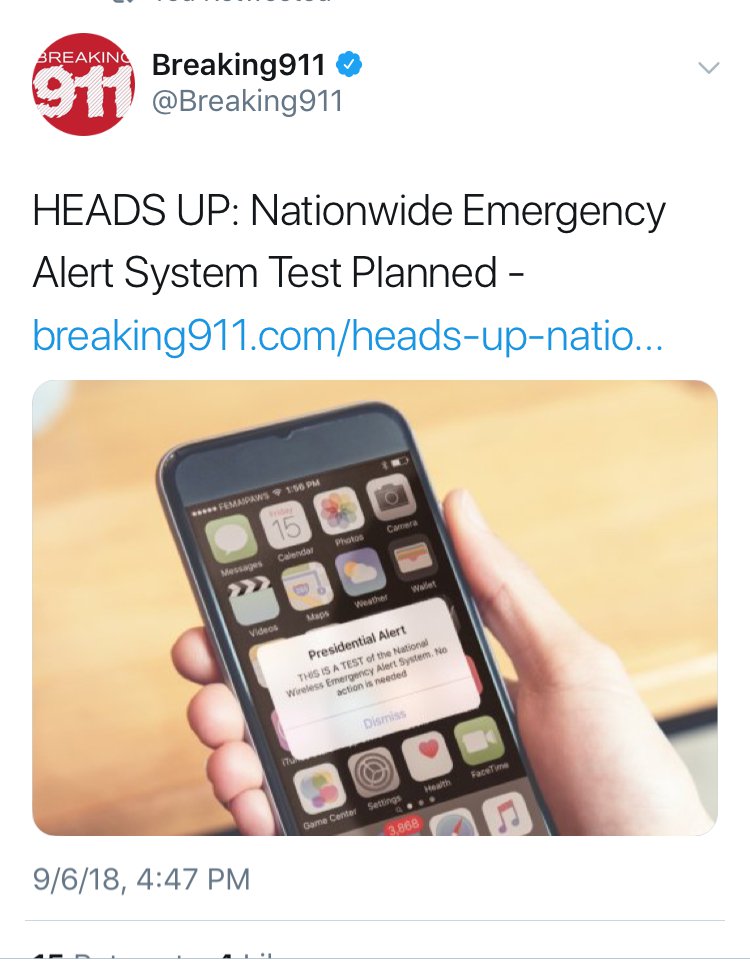 HEADS UP: Nationwide Emergency Alert System Test Planned – breaking911.com/heads-up-natio…
One of the very first QAnon posts said they would use the Emergency Broadcast System to bypass media censorship and tell us what's really going on.
Consider the Q post from 9/1/18 declaring Emergency Preparedness Month
Let's combine this information with a post from Q Anon dating back to September 1st, as follows.  Among other things, we are again encouraged to "sign up for (emergency) alerts on mobile devices":
Q

 

!!mG7VJxZNCI

 

ID: d1b112

No.

2833619

National Preparedness Month is a time to focus our attention on the importance of preparing our families, homes, businesses, and communities for disasters that threaten our lives, property, and homeland.

During this time, we also honor the brave men and women who selflessly respond to crises and disasters, rendering aid to those in need.

These first responders, who work tirelessly to safeguard our Nation and protect our citizens, deserve our utmost gratitude and appreciation….

Tragedies are somber reminders that preparedness is a shared responsibility and that it is critical to maintain readiness.

All Americans can prepare for potential disasters by developing and practicing a family emergency response plan, assembling a disaster supply kit, signing up for alerts on mobile devices, setting aside emergency savings, and maintaining adequate insurance policies for their homes and businesses.

The Federal Emergency Management Agency's Ready Campaign outlines other important steps to best prepare for a major disaster.

This month, I encourage all Americans to take the opportunity to ensure they have an emergency response plan in place and ready to be properly executed.

Emergencies and disasters test the resilience and strength of families, communities, and our Nation. It is impossible to avoid every challenge and threat, but we can and must prepare for them.

By doing so, we can help protect our communities and save lives.

NOW, THEREFORE, I, DONALD J. TRUMP, President of the United States of America, by virtue of the authority vested in me by the Constitution and the laws of the United States, do hereby proclaim September 2018 as National Preparedness Month.

I encourage all Americans, including Federal, State, and local officials, to take action to be prepared for disaster or emergency by making and practicing their emergency response plans.

Each step we take to become better prepared makes a real difference in how our families and communities will respond and persevere when faced with the unexpected….
If you have read all of this and are thinking what I am thinking, then we have a lot of informing to do.  There are far too many reticulations all pointing in the same direction for us to simply ignore this.
If Q is a LARP or conspiracy theory like the MSM claims, then all the credibility they've built over the last 11 months will have been wasted.  If what they've been alluding to doesn't happen, like the prophets of the OT when they weren't accurate and therefore weren't speaking for God – so too, Q would be disproved (I'm not saying Q is speaking for God, just to be clear).
Yet, if this does pan out…!
Then we learned the satellites were taken out
Q alerted us to the fact they disabled several satellites and computer systems.  On August 30, there were five posts detailing Snow White, Corona, and Big Bird (multiples in each) – all had be disabled.
David Wilcock posted the info from Hal Turner's insiders who were freaked out that they were blind, deaf, and dumb.
The article on Hal Turner listed it thusly:
SIGINT and SATCOM capabilities REMAIN SEVERELY COMPROMISED. 

This is now just over 24 full hours that much of our Intelligence Community communications capabilities globally, REMAIN DEAD.
Benjamin Fulford has reported that a financial reset with a new gold-backed dollar will be part of this global clean up (eliminating the Cabal's power and influence).  It would make sense that a huge change like this should occur after mass arrests of bad actors.  With no "eyes in the sky," this (limited?) time of blindness would be preliminary and paramount to the mass arrests of criminals and treasonous citizens.
So we heave a lot to pray for! Not the least of which is the safety and security of those men and women who are making these changes happen.  A mass-arrest police action seems imminent, so hang onto your hats.  David's insider said:
Tell him the coming change defies all imagination. We are living through history.
~~~
(When people die trying to educate the ignorant, it's rude to claim they're a LARP…)
WM
Sources
Qmap.pub
http://halturnerradioshow.com/index.php/news/u-s-national-news/3079-breaking-news-urgent-7-cia-mainframe-computers-down-spy-satellites-offline
http://www.benjaminfulford.net/